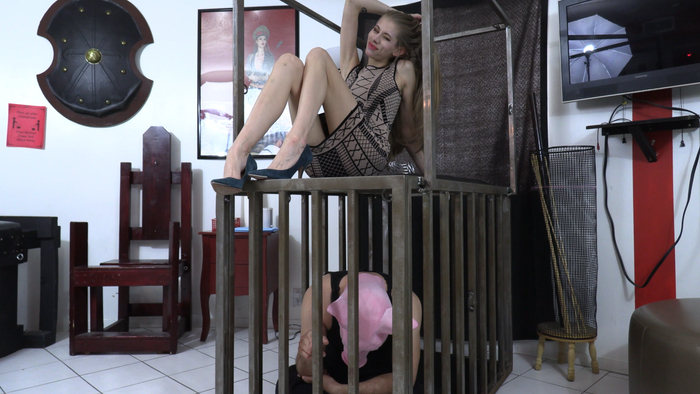 Goddess Kyaa locks her cuckold pig in a cage
Girls like Goddess Kyaa believe that cuckolds like you deserve nothing more than a lifetime of shame and humiliation. She basks in the glorious feeling of dominance as she owns your worthless cock, locked away forever. Just like what you see in this sizzling Domination 4K video, Goddess Kyaa keeps her cuckold loser in a chastity cage. For just a moment, you can dream that it's you, trapped in pleasure, drowning in desire.
While Goddess Kyaa is out fucking gorgeous women and alpha males, you will be where this pathetic slave is: locked in chastity and caged like an animal. In fact, she'll pull a pig mask from her pocket and slip it over your head, a physical reminder of your subservience to her. Wearing a pig mask while humiliated, you will become her pet and an invisible idiot in society. But wouldn't you do just anything for her?
You'll cower before her, head bowed in shame and fear as you feel her eyes on you. You'll tremble in humiliation as your mistress locks you up in pleasurable punishment, as she revels in her sadistic ways, as the key clicks in the lock and seals your fate. She'll spit each word of humiliation at you, emphasizing the futility of your situation. You're her chastity toy, her slave.
With every second that passes, you'll feel more and more insignificant, just a pawn in her never-ending sex games. You'll never be able to gaze upon her body without permission, let alone be given the honor of touching her.
What can you do to please her? Beg for forgiveness or simply submit to her whims? This femdom mistress of pain and pleasure wants nothing more than to have you trapped in her dungeon of sexual delights, whether locked in that cage or subjected to mind games and tests to prove your loyalty and submission!
Imagine the rigorous training exercises when you're held in Goddess Kyaa's captivity. She'll push your mental and physical limits, shoving you near to the brink of exhaustion. She'll use her humiliation techniques to make you her slave, ensuring that you accept our role as her obedient servant.
She'll make sure you stay silent with an array of pleasure devices like rope, paddles, whips, and chains! She'll achieve total and complete dominance over her cuckold slave. Goddess Kyaa will break your spirit and own your soul. You've never been dominated like this before!
It amuses her to degrade you for her entertainment and excitement, which gives her a sense of control over the crazy world around us. The taste of excitement fills her mouth and flows into her brain until all of existence is nothing but pleasure flowing through every inch of her body.
You know your place and it's always beneath Goddess Kyaa, never touching what belongs to her. Cuckolds like you are not even worthy of her. Consider yourself lucky to be her cuckold! Visit Domination 4K today to watch Goddess Kyaa lock her little piggy in his cage!